Today, many studies focus on one spatial dimension before increasing the complexity of their models. Examples include the scaling of signaling activity with the size of growing tissues (Hamaratoglu et al., 2011) and the reverse engineering of developmental gene regulatory networks (Jaeger et al., 2011; Perkins et al., 2006). To measure gene and protein expression in one spatial dimension, we derive the structure models of the individual systems previously inferred to generate systematic trajectories. The obtained data sets are called expression profiles.
Only two parameters are required to generate a trajectory: the reference boundary (A/P or D/V) and a translation offset. The last case below shows the trajectory obtained when translating the D/V boundary along 45% of the trajectory of the C-D axis (C is the center of the model, D is the intersection of the A/P boundary with the dorsal part of the outer boundary of the model). Note that placing the offset slider on -45% would have translated the D/V boundary towards the ventral part of the structure.

However, we wanted to support the quantification of gene and protein expression everywhere inside the inferred structure model. If the generation of expression profiles is relatively evident, the principal challenge was to move from a 1D to 2D discretization of the system. To overcome this, we defined a coordinate system derived from the morphological structure model identified previously by our unsupervised segmentation method. Grid representations of this coordinate system are shown below for Drosophila wings imaged at different times during during development. Here, we used this representation to obtain a quantitative description of the effect of the pentagone mutation on the morphology of developing wing.

The advantage of this coordinate system is that it provides a way to measure expression levels in a systematic way in many individual systems. Here, we used this method to measure the relative expression of five gene products at different time steps during wing development. Expression is measured at the intersection points of the grids, whose resolution can be freely adjusted, before generating for each individual system an intermediate representation called circular expression map.
Thanks to this representation, spatial gene expression data can be integrated despite the fact that they have been collected from individual systems having intrinsctly different shapes. The expression maps of Pmad-GFP, Pmad-AB, Brk-AB, Sal-AB and Omb-AB shown below correspond each to an average expression map computed from five to ten wings.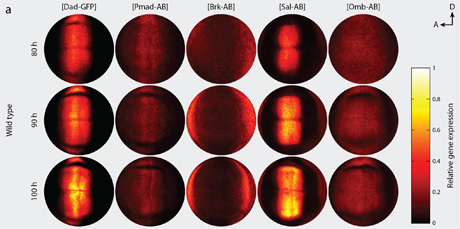 In addition to provide a tool that can be directly used to study the scaling of activity gradients in growing tissues, this representation can be used to visualize and compare expression maps obtained under different experimental conditions. Examples include systems imaged at different time steps during development or systems with different genetic backgrounds.